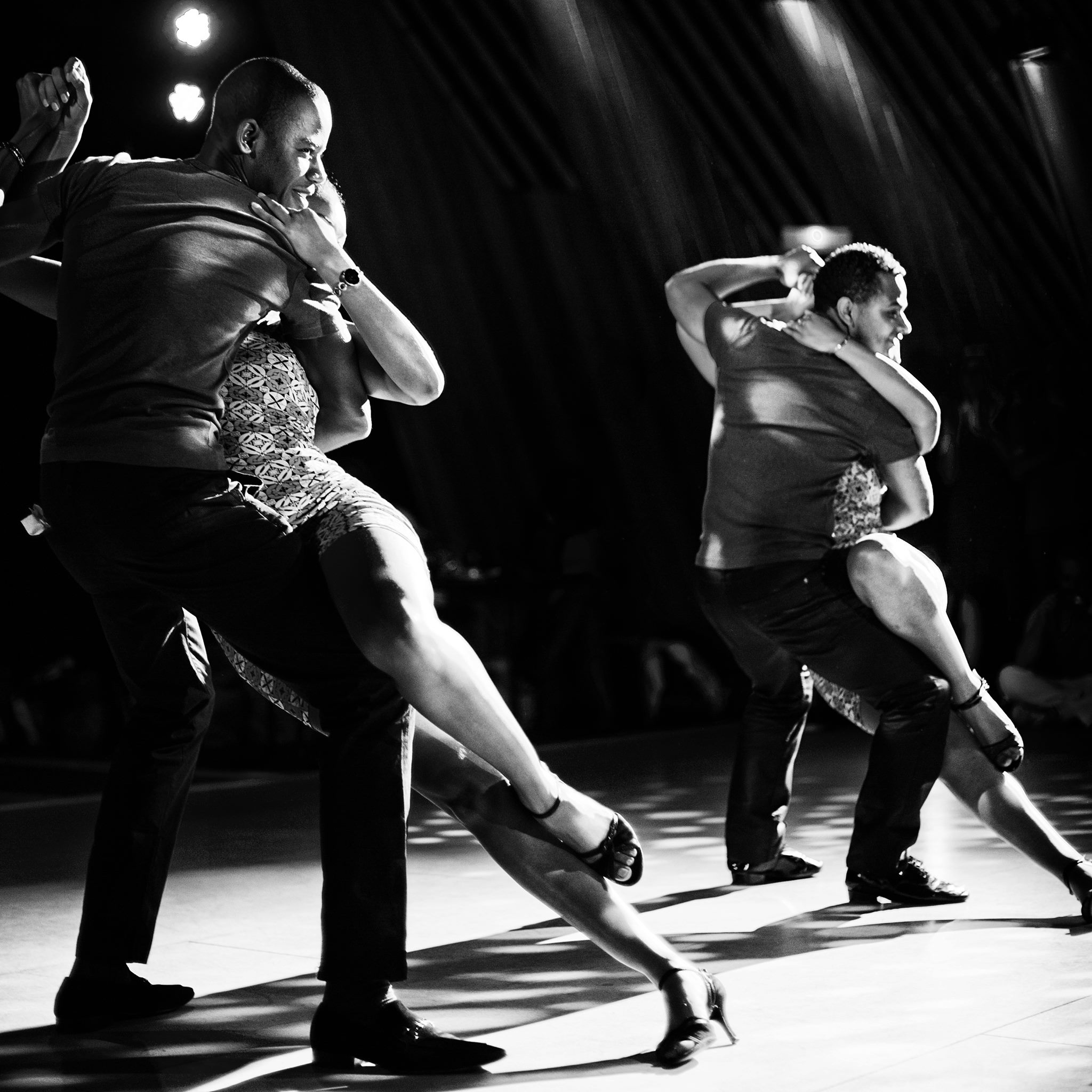 Type of Dance
In the beginning, Semba was also called dança de roda (circle dance), lundu, batucada, varina and several other names especially when we talk about Semba for carnival (single dance).
Initially, Semba was a single dance in which the man danced in front of a woman. The man would then put his hand on the woman's hips and would bring her with a sudden mouvement to him which would provoque a choc (Semba).
Moreover, also Kabetule, Kazukuta and Bungula steps where used while dancing Semba. Today, Semba has evolved into a couple dance with large steps on a fast beat. The steps can be very acrobatic. There is a lot of room for improvisation. Semba movements are similar to Milonga steps.
In Angola's capital Luanda, many Semba competitions are organised in order to continue promoting the culture and to give the opportunity to young people to enjoy great moments.
Afternoons called "Tarde de Semba" are frequently organised in the "Centro Cultural e Recreativos" such as, Gajajeira, Kilamba, Kubita, Agustinho Neto, Mãe Preta, Kadama, Cha de Caxinde and others, offering Semba demonstrations, competitions, a lot of social dancing and live music.
SOME SECRETS ABOUT SEMBA REVEALED
Here is Semba (Carnival style, with elements of music and carnival dance), the way "Bruxo and Bruxa" was used in the 80s. "Bruxo and Bruxa" were two men who were dancing. The carnival element is actually the rhythmic motif of "Kazukuta". When you remove carnival elements, they are simply scattered from Semba (social).
Nowadays in Angola, Semba is rarely danced with Carnival elements because Semba's current music is a motif of Kazukata rhythmic style.
Discover the Kizomba History