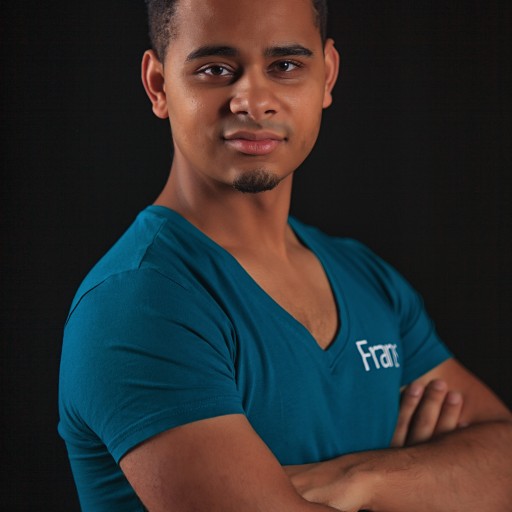 In 2008, Frans joined the "Kizombalove Academy" and grew quickly as dancer and teacher. It is indeed in this school, based in Belgium, that Frans followed a professional training for future Kizomba / Semba teachers (Teacher's course: José N'dongala Kizombalove Methodology).
Since 2011, he always teach kizomba, with his partner Sarah Amaro, in a professionnal way but also in a friendly and relaxed atmosphere.Frans & Sarah already shares their experiences during workshops (Kizomba & Semba), bootcamps, demos and shows in several international festivals (Holland Kizomba Congress, Avoriaz Dance festival, Ahinama Salsa Festival, I love Kizomba Sensual Festival, El Corazon festival, Africadançar, Christmas Kizomba Festival, Love Kiz Brussels Festival …).
In 2014, the management of the Kizombalove Academy has been entrusted to him and since that time he is the Managing director of the school.
About their artistic achievements:
– Frans and Sarah won the Kizomba Benelux competition organized in Belgium in 2011 (18.02.2011).
– Frans and Sarah were the first couple qualified during the eliminations of the GB Kizomba competition held in London in 2014 (28.02.2014).
– Frans and Sarah won the semifinal africadançar UK 2014 (final of the GB Kizomba competiton UK) (05.04.2014).
– Frans and Sarah took part to the Final Improvisation of Africadançar 2014 in Milan and were qualified for the big Final Choreography (03.05.2014).
– Frans and Sarah took part to the Final Choreography of Africadançar 2014 in Milan and finished in the top 10 world's best Kizomba dancers (04.05.2014).
Academic history
Frans Soenen and Sarah Amaro were adopted by José N'dongala in the world of Kizomba in 2008 when they were still very young. Despite of not following José's kizomba classes in a very disciplined way, sometimes missing 3 and 4 weeks of classes at the time, they were always able to follow the classes when they returned with ease, which drew José N'dongala's attention. They showed incredible skills from the very beginning.
Frans and Sarah are part of the Kizombalove Academy since 2008. Frans began as image, sound and video manager. He always contributed tirelessly to the active profile of the Academy and he does it with a lot of dedication. Thanks to him the Academy's videos and pictures reflect the quality and accuracy we share with those who follow our footsteps on the dance floor, via Facebook, Youtube and on our website – www.kizombalove.com
Frans and Sarah began as assistants actively giving Kizomba (Kizombalove) classes in 2009.
Their career as a fully accredited Kizomba teachers with focus on Kizombalove style have developed in the following sequence:
Foundation course on 29/10/2011.

Intermediate course on 27/07/2012.

Advanced course on 12/04/2013.

Teacher's course (Green light) on ….
Frans and Sarah are now ready to take the next step to receive the official green certificate – the official green light: the Kizomba Teachers Course certificate.
Upon obtaining their advance course certificate (Master in Kizomba), Frans officially became the Kizombalove Team Captain. His next challenge is to be Kizombalove Team Manager.
Frans Soenen and Sarah Amaro look forward to teaching the "José N'dongala Kizombalove Methodology" to everyone who is passionate about discovering the secrets of kizomba the way it is danced in Angola.
They are proud to have learned kizomba in a fast, structured and easy way from their master José N'dongala. Frans & Sarah have shared their experience by giving Kizomba (Kizombalove) classes, show's workshops and bootcamps in Belgium and Abroad.
"With Frans and Sarah ready to passionately share all the secrets of kizomba, we can rest assure that the future of kizomba and semba is guaranteed."
José N'dongala